Shipping is only $2.50 in the USA and $9.45 in other countries no matter how many movies are purchased in a single order.
Example; Buy 2 movies in the USA, $18.99x2 = $37.98 + $2.50 for shipping. Total $40.48
Buy 3 and get a 4th DVD for free!
Do you know anyone that deserves some entertaining enlightenment?
(receipt will say 3 but we will ship 4)
Great stocking stuffers!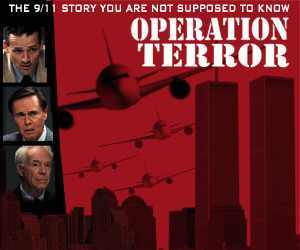 Operation Terror puts together the under reported events of the 9/11 attacks into a gripping political thriller. The movie includes Able Danger, the arrest of Zacarias Moussaoui, BBC announcing the collapse of Building 7 before it happened, nanothermite in the World Trade Center, the empty hole in Shanksville, the small hole in the Pentagon, Dick Cheney in the White House EOC, the NASA facility in Cleveland, and much, much more. Even though there are fictional characters mixed in with the real perpetrators and victims, viewers will discover more truth in this feature film than they would by watching a decade of nightly news programs.